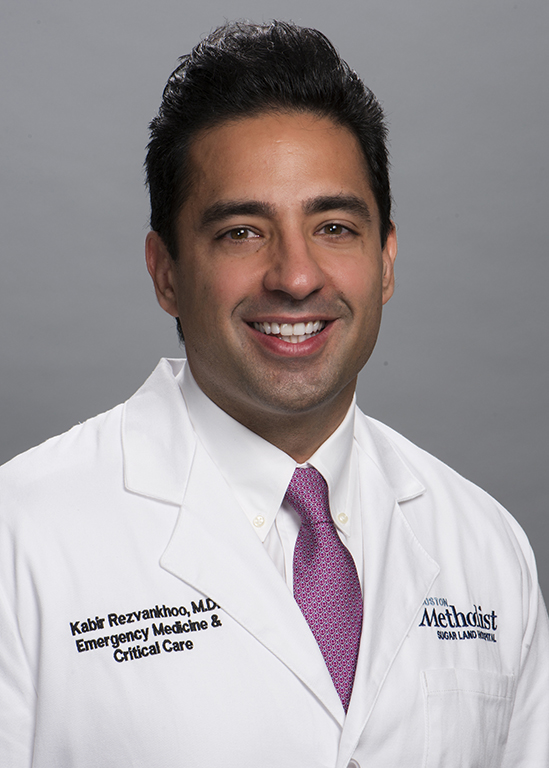 Please read the following announcement about HMSL's new ICU Medical Director:
SUGAR LAND – (June 16, 2022) — Houston Methodist Sugar Land Hospital is pleased to announce that Kabir Rezvankhoo, M.D., has been named ICU medical director overseeing critical care services effective immediately.
Rezvankhoo is double board-certified in both Emergency Medicine and Critical Care. He completed his residency training in emergency medicine at New York-Presbyterian (NYP) Hospital-Columbia and Cornell in New York, NY, and completed his fellowship training in critical care medicine at Medstar Georgetown Washington Hospital Center in Washington, D.C. He was on faculty at NYP – Columbia University Medical Center for many years where he was involved in numerous administrative and academic roles.
Since he started at Houston Methodist Sugar Land in 2016, Rezvankhoo has worked as a full-time intensivist and has gained the respect and admiration of patients, colleagues, and staff for his tireless dedication to our patients and staff. For the past two years, he has served as the COVID-19 response leader — a vitally important role in enabling Houston Methodist Sugar Land to continue to serve the community safely and effectively.
Studies show that intensivist-directed care leads to better outcomes for patients, including reduced numbers of complications and shorter stays in the ICU. Having intensivists on-site also allows patients to be evaluated by a physician within one hour after their admittance to the ICU, and makes round-the-clock care and observation the standard.
At Houston Methodist Sugar Land, intensivists work closely with other physician specialists, acute care nurse practitioners and ancillary care providers to ensure that ICU patients receive timely, responsive care throughout their stay. As a team, they provide improved continuity of care as well as ensure regular communication with patients, family members, primary care physicians and other specialists.
Visit houstonmethodist.org/sugarland to learn more about Houston Methodist Sugar Land Hospital.
-30-